Bandit Signs ventures into new markets with flatbed printer from Midcomp
This article originally appeared in Sign Africa.

Midcomp has installed a JHF V2800 at Bandit Signs. This affordable yet upgradeable LED UV flatbed printer is the ideal choice for Print Service Providers (PSP's) that want to venture into lucrative markets where innovation and versatility are key. As the PSP's productivity demand increases, so can the productivity of their printer be increased.
The JHF V2800 comes in a variety of print head configurations, either a 2 head or 3, 4, 5, 6 or 8 head configuration depending on the PSP's budget. All V2800's are specified as field upgradeable and come already equipped with all the piping and pumps, even for unpopulated print head slots, so that all that needs be added is more colour, white or varnish print heads and appropriate printhead electronics.
Printing on heat-sensitive media is no issue with cool LED curing. The LED lamps are always ready to go, with neither a warm-up nor a cool-down. It handles a variety of applications such as acrylic, aluminium composite panels, ceramic tile, wood, polyester, polycarbonate, polystyrene, (high-density) PVC, flexible foam panels, glass and metal (with a primer). Applications include: interior decor, free-standing display units, signage and more. JHF V2800 stock is currently available from Midcomp.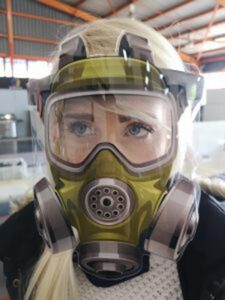 With almost 30 years' in the industry, Bandit has grown from a vehicle and fleet wrapping company to developing specialist divisions for paint protection, architectural finishes, bike graphics and graphic design, and has now branched out into personal protective equipment (PPE) products.
Bandit Signs managing director Darryl Curtis said that the JHF was ordered with an extra row of heads for faster production, and that it is being used to print onto PET for safety shields and personalising counter screens. 'We want to be able to cater for advertising agencies and customers that need short runs of promotional boxes and packaging products, as well as Xanita board point of sale products. The machine will also be beneficial for some of our thick motocross graphics when white is needed.'
'Bandit Signs started manufacturing social distancing graphics and posters two weeks before lockdown,' continued Curtis, 'we then added safety shields ranging from economy to premium, kiddies and corporate. This early start kept us in business and during this time we have been able to clean up and reinvent ourselves.
'The flatbed printer is certainly a great start to start venturing into other markets outside of our vehicle branding division. We have opened a factory shop where resellers and the public are welcome to purchase our masks, of which 30 varieties are on display. In conjunction with Midcomp, we also sponsored more than 1000 sets of doctor and nurse graphics for our healthcare workers over this period.'